THE DIVINITY, THE BEAUTY AND THE BLESSINGS OF MAHAVARAHI
Divinity manifests from age to age in the human form in order to re-establish Dharma (righteousness) and to guide all mankind back to the righteous path and to guide all mankind to the path of inner self. Goddess Sri Maha Varahi is one such manifestation.

She has deep beauty that gleams from inside her soul and will warm every one with her energy .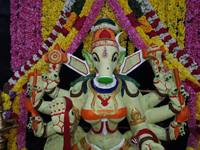 She is a boar headed Goddess portrayed as sitting on a Lion. Her black complexion symbolizes her transcendental nature. She is a Minerva – goddess of wisdom and beauty . She is the celestial beauty with eight hands Each hand has a Sangu, Chakram, Gadhai, Kadgam, Mushalam, Damaragam, Abayavaradam and Ulakkai. She is draped in 'Silk Robes and Jewellery'.

Worshipping her, a faithful devotee becomes a pure refined soul. Since she is an epitome of Gnana (Knowledge) worshipping her will encourage oneself to attain knowledge in abundance which is the stepping stone for success in life.

She is the epitome of Rajarajeshwari. She has been patiently and gracefully waiting to reveal herself with her heart ready to receive us.